CLO has evolved from a small retail space to a multidisciplinary design studio producing timeless spaces. We sat down with the CLO Studios design team and chatted all things design, from their favourite designers, a day in the life and dream dinner companions.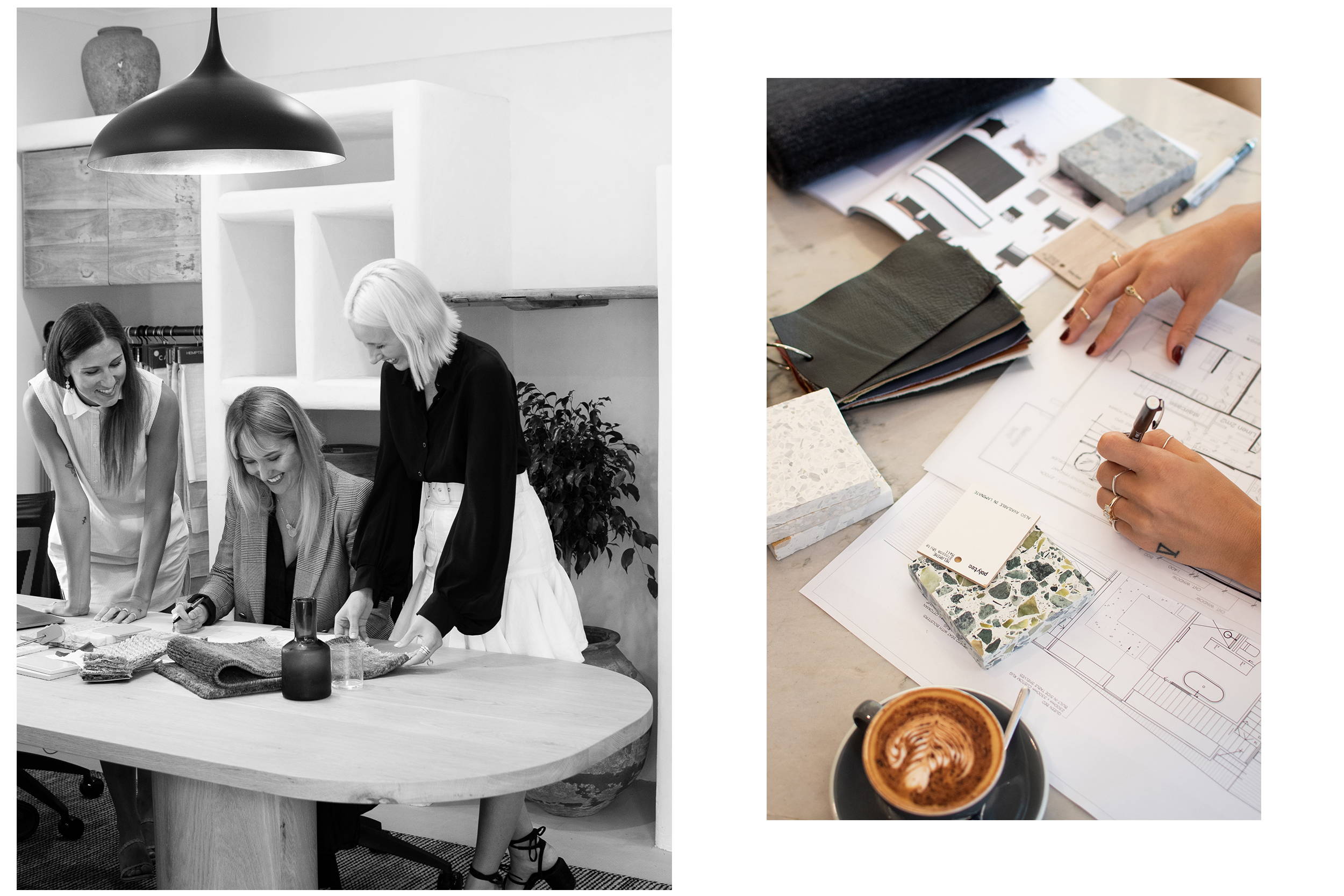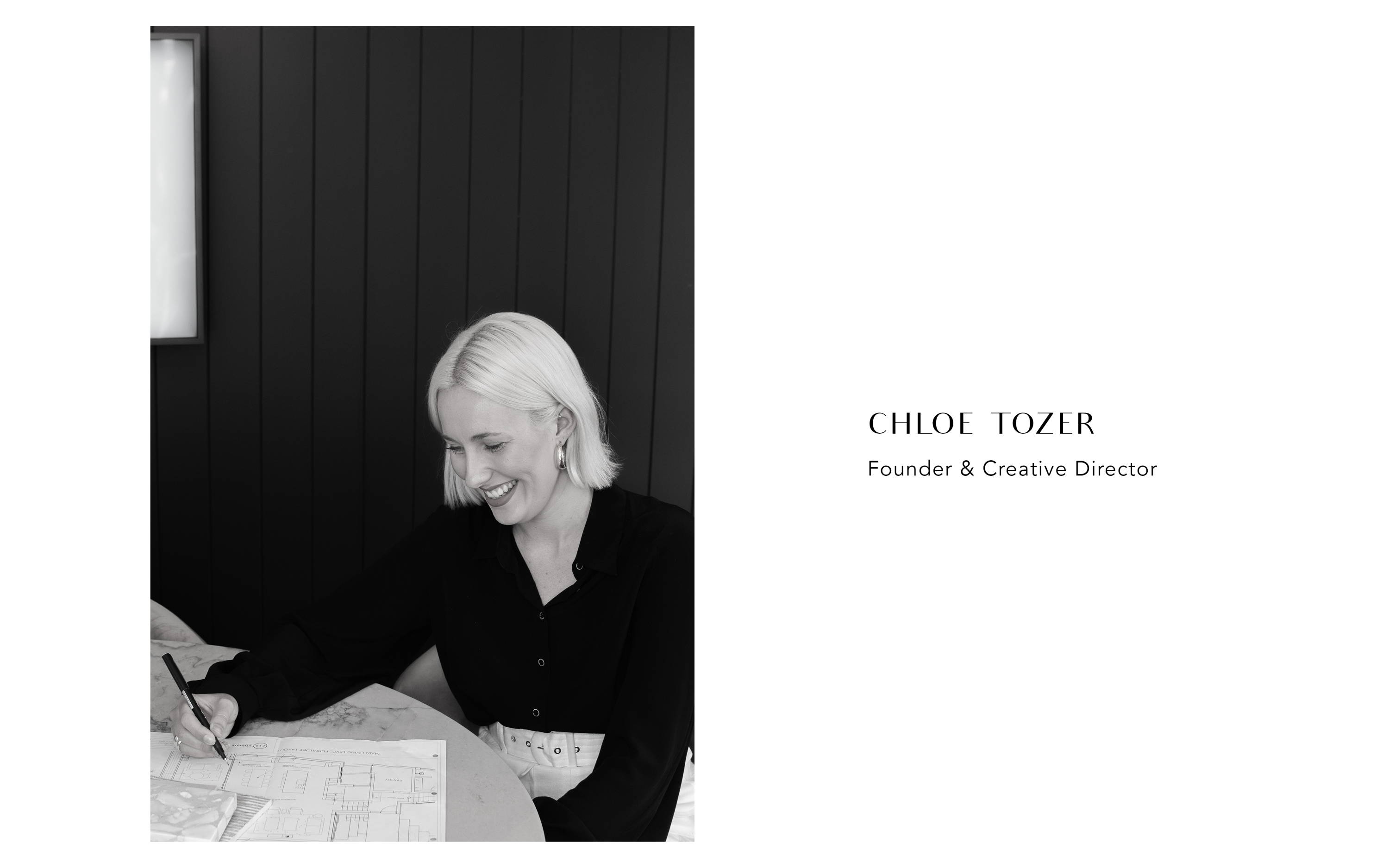 Q.
Who is your favourite designer?
A.
I am really inspired by STUDIO KO. Their work is so beautifully curated with a strong connection to the land. I love that their projects almost sink into the landscapes, the interiors are full of symbolism and the concepts develop naturally.
What excites me the most is seeing the rise of Australian Design. We are lucky to have some of the most incredible boutique hotels in the world with such unique interiors. Some of my favourites close to home are, Raes on Wategos designed by Tamsin Johnson, The Calile designed by Richards and Spence & Halcyon House by Anna Spiro. It's an exciting time for Australian Design!
Q.
Current obsession?
A.
Colour! We just got back from the annual Maison et Objet convention in Paris & I was so happy to see how much colour was being used. Crazy combinations of Orange & Blue, Pink & Green.
Q.
Where do you find inspiration from?
A.
I am so grateful that the business has allowed me to travel to the most amazing places and meet the most incredible people. I find inspiration from experiencing new cultures, meeting new people, listening to people's stories & learning about the way they live.
I have been lucky enough to travel to Morocco over the past few years and I truly am inspired when I visit this magical part of the world. I think that I fall in love with this country more and more every time I visit. We collaborated with an amazing group of artisans on our very first visit and we have been working closely together ever since. Their old school, authentic, sustainable making techniques really inspire me.
Q.
Favourite part about being the Founder & Creative Director behind CLO?
A.  
One of the best parts of owning this business is the ability to closely collaborate with our design team. There is nothing more rewarding than working together to constantly create new concepts for our clients. The possibilities are endless, and we are always pushing each other to look outside the box and while challenging ourselves. We all have so many different strengths and all come from very different backgrounds, this really allows us to constantly evolve as a team.
I not only adore creating spaces and the design side of things, but the connections made with clients is truly incredible. I have met some amazing people through design, some of my closest friends started off as clients!
Q.
What does a day at CLO Studios look like for you?
A.
We are very much an extended family here at CLO - every day always starts with a morning hug! We are so close that I truly get excited about coming to work each day.
I like to arrive early to get a head start on my day as most of my day is usually spent collaborating with team members, liaising with overseas suppliers, meeting with prospective clients, designing new products, planning upcoming events, mentoring local artists, training the team and connecting with suppliers. Every single day is unique and very fast paced and I wouldn't change it for the world.
Q.
How would you describe your own style?
A.
I love an interior with a story - mixing pieces that have history & what I've I found on my travels. For me your interior is about a feeling, a sanctuary made up of things you love & have emotional connection too. I love modern/edgy furniture mixed with rustic timber pieces. Interesting objects & art that have a purpose. Functionality is important to me, while things should look beautiful, they should also be functional.
"THERE IS NOTHING MORE REWARDING THAN WORKING TOGETHER TO CONSTANTLY CREATE NEW CONCEPTS FOR OUR CLIENTS."
— CHLOE TOZER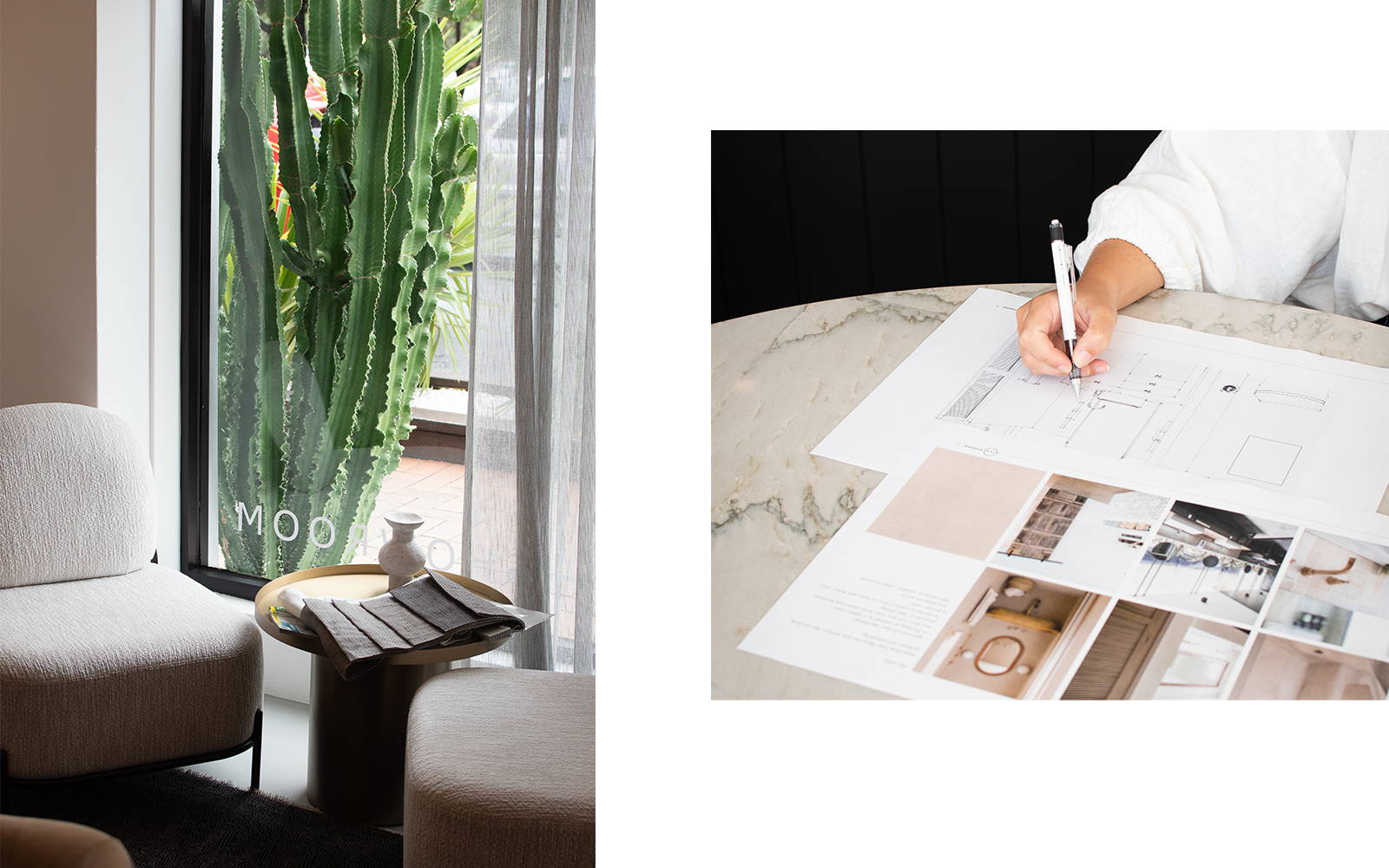 Q.
Your dream client?
A.
That's a huge question because we are truly inspired by all clients. The team at CLO absolutely love being challenged as it really creates an amazing opportunity to produce unique interiors. We are so lucky to have a broad range of clients, all with different visions. Our team loves nothing more than working with diversity.
My introduction to the creative world was through painting from a very young age, and this has always been a huge part of my creative journey. I always get excited by clients with a great appreciation for art. I find the right pieces of art really bring an interior to life.
Q.
If you could take any designer/creative to dinner who would it be?
A.
During my recent overseas trip to Paris, I was lucky enough to have tea with one of my all-time favourite artists, Ines Longevial. I was so excited to get to spend some time with such a well-established artist and she was so kind to spare the time.
Historically there are so many people who I would have really enjoyed meeting if they were still around today. If I could go back in time, Yves Saint Laurent would be at the top of my list as everything about him inspires me.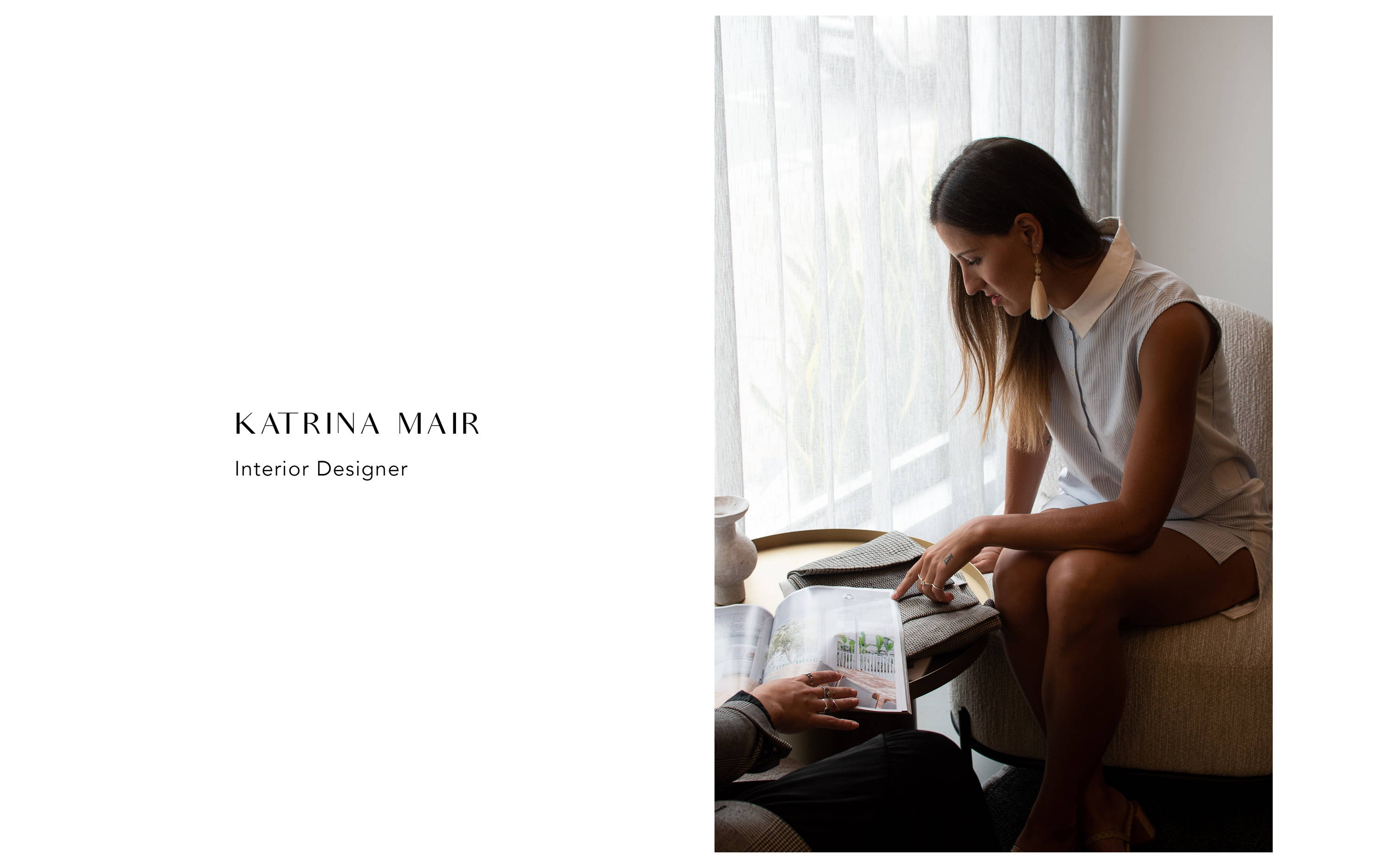 Q.
If you could take any designer/creative to dinner who would it be?
A.
OMG, this answer changes all the time. But today my answer has to be Monique Gibson. I am fangirling so hard over the interiors she is creating right now. She is an absolute genius at creating approachable designed interiors. Love, Love, Love!
Q.
Your dream client?
A.
I love working with design intelligent clients, individuals who are like-minded in the design world. However, I find so much enjoyment in helping the design sceptics. Not often do we get a client who doesn't understand at least some of what we do, the purpose, and the thought process of why. It's amazing to work with someone who learns to appreciate design through the experience of designing. It's uniquely rewarding. 
"IT'S AMAZING TO WORK WITH SOMEONE WHO LEARNS TO APPRECIATE DESIGN THROUGH THE EXPERIENCE OF DESIGNING. IT'S UNIQUELY REWARDING."
— KATRINA MAIR
Q.
Current obsession?
A.
Fringe/tassels. It's been an ongoing love affair for half my life. I love it in all aspects of my life, furniture, clothes, accessories. I'm wearing tassel earrings right now.
Q.
Who is your favoruite designer?
A.
Rose Tarlow, I've always loved Old World Design and she absolutely inspires me with her blend of textures, colours and styles.
Q.
How would you describe your own style?
A.
A designer's home is never really ever complete, we are always tweaking and practicing on our own spaces. I've had an obsession with the old world before I even knew that I loved design and furniture. My mum and I love antiquing, it's a passion we share. I love mixing modern architecture with found objects, old world themes with 21st century patterns, rich aged textures with fresh clean lines. I am constantly fascinated with the juxtaposition of intricate detailing of antiques and the static lines of minimalist architecture.
Q.
Favourite part about being an interior designer?
A.  
The constant evolution of design. Every aspect of design is constantly changing and evolving. It's impossible to get bored as long as you keep searching deep within yourself, and your clients.
Q.
What does a day at CLO Studios look like for you?
A.
Gosh, everyday can be so different. Some days we are installing a house full of furniture the next we might be selecting finishes and playing around with fabrics. It still amazes me how my week can look so different from the next.
Q.
Where do you find inspiration from?
A.
I love books. Design books, picture books, large story fiction, biographies, anything that tells a story. I love an interior that tells a story as well, each space telling a portion of the grand tale.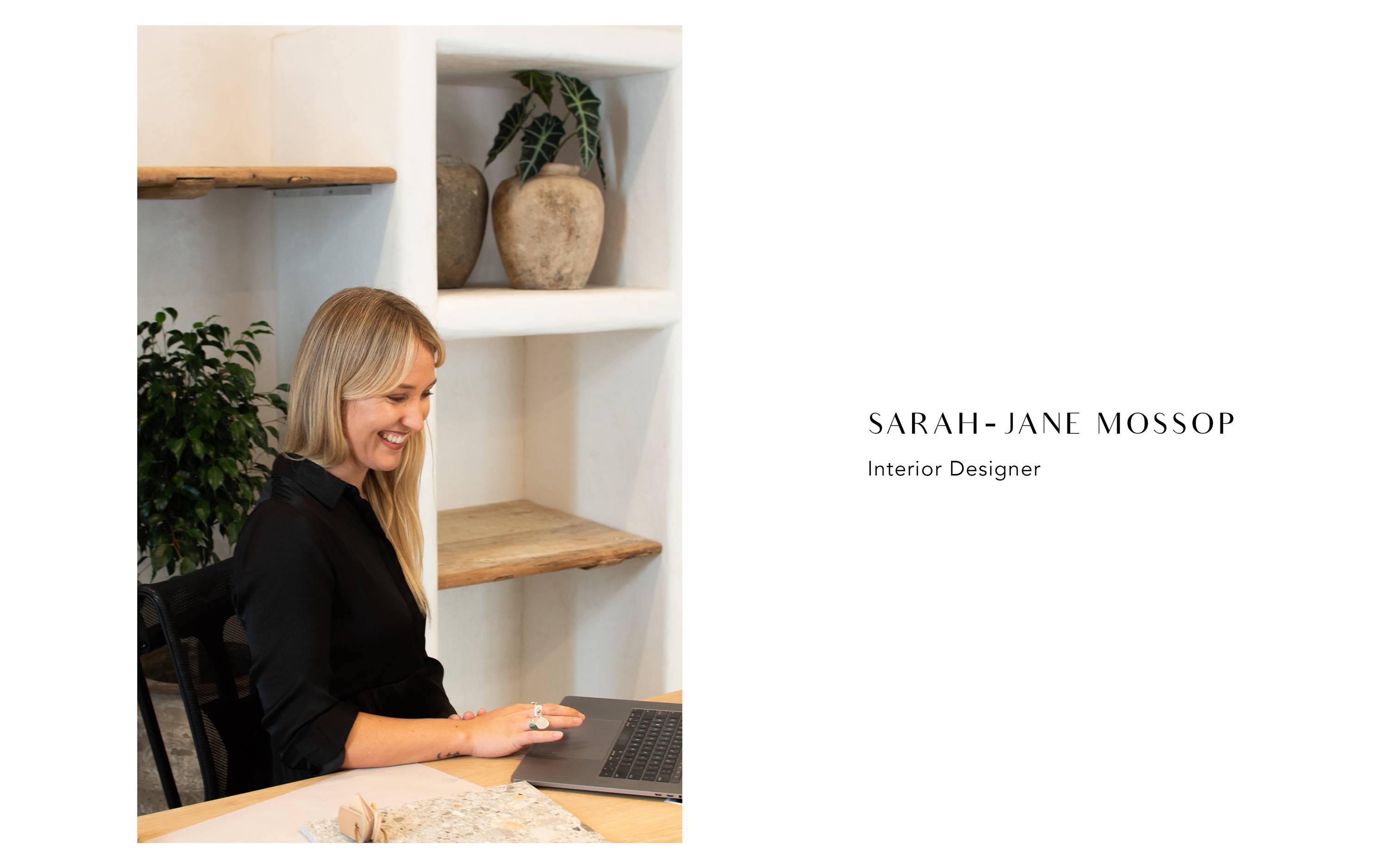 "THERE IS SOMETHING REALLY MAGICAL ABOUT WORKING WITH OTHER CREATIVES, ARTISTS, DESIGNERS AND ARTISANS FROM THEIR TRADE ON A PROJECT AND FEELING THEIR PASSION - IT'S A VERY CONTAGIOUS PROCESS."
— SARAH-JANE MOSSOP
Q.
Current obsession?
A.
Eco building materials and mud brick homes. Also, Vanilla Food amaretti!
Q.
Who is your favourite designer?
A.
This changes constantly as there are so many creative designers!Bianca Miro Skoudy,Studio Anuk B,Sarah Ellison andKelly Wearstler.
Q.
Where do you find inspiration from?
A.
I find most inspiration for me comes from travel. New places, cultures and architecture. I love seeing how different countries use different building materials and colour palettes, but mostly the feeling of being in a new place and discovering a point of difference. As insignificant as the faded colour of a door, low lighting of a cafe, or hushed conversations in a different language. What excites my soul are the things that excite the passion and inspiration in my work.
Q.
Favourite part about being an interior designer?
A.  
The concept development stage for me, this is the part where I can be as creatively "out there" before the design and vision finds its direction. There is also something really magical about working with other creatives, artists, designers and artisans from their trade on a project and feeling their passion - it's a very contagious process.
Q.
What does a day at CLO Studios look like for you?
A.
No two days are the same and that's where the enjoyment is. I love to start my day with client meetings whilst my mind is at its clearest, a good strong coffee and of course ... an amaretti!
Q.
How would you describe your own style?
A.
This is a hard one. I feel we are always evolving - whilst I lean toward earthy and natural palettes, I also love to push the boundaries. I prefer to use the word "style" loosely as I don't like being confined by any one particular aesthetic!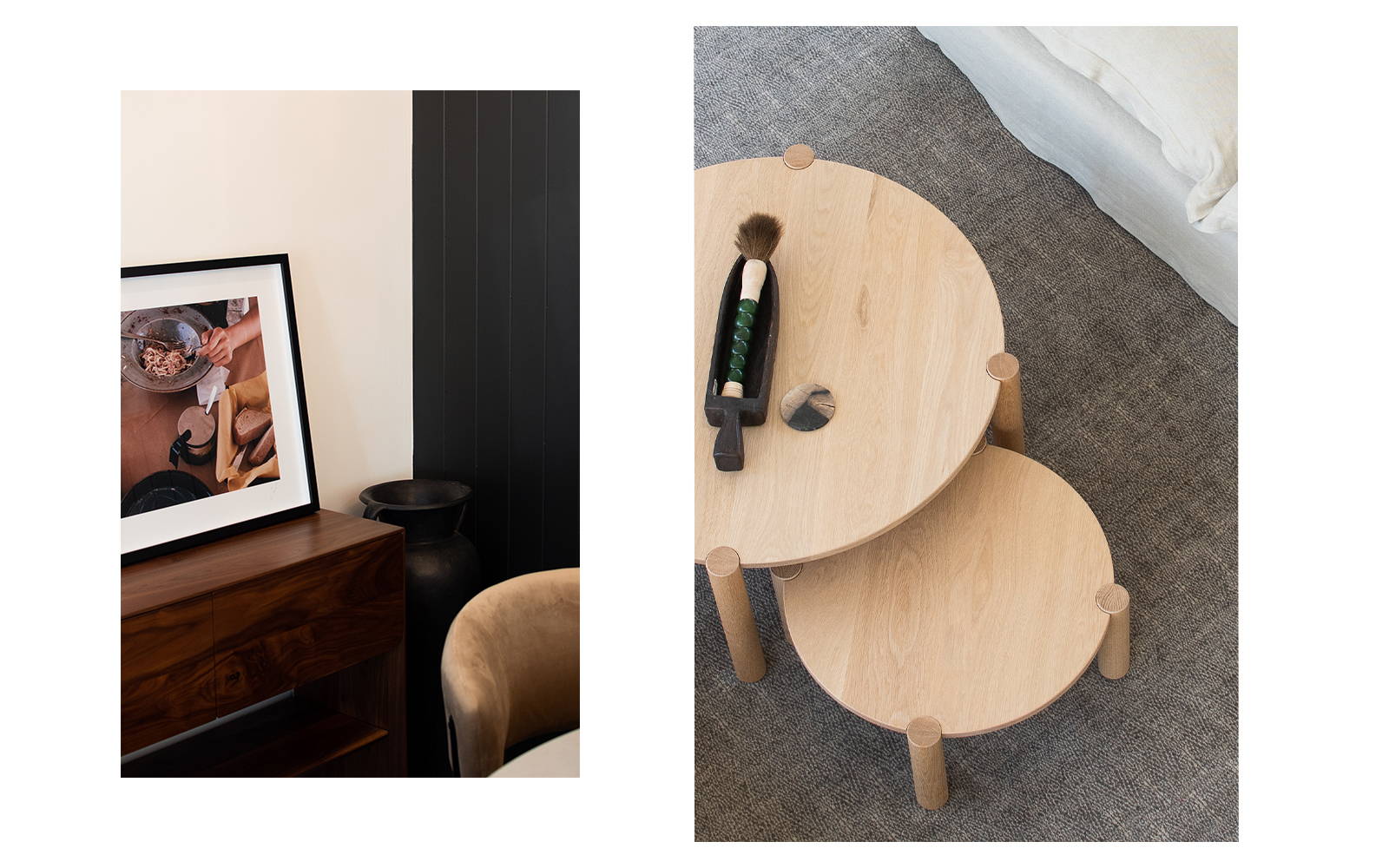 Q.
If you could take any designer/creative to dinner who would it be?
A.
Martin Lawrence Bullard because he's "Fabulous darling" and it would be an absolute hoot!
Q.
Your dream client?
A.
The clients who say… "I'm looking at doing something different!". I love a challenge!