Photographed by Olivia Bundic
Australian artist Elle-louise Burguez paints vibrant dreamscapes portraying a sense of holiday-moods, European summers and romantic evenings. Elle paints various vessels, fruits, desserts, objects, and rugs. All inspired by her travels around the world, the colours of the Mediterranean and ancient art.
---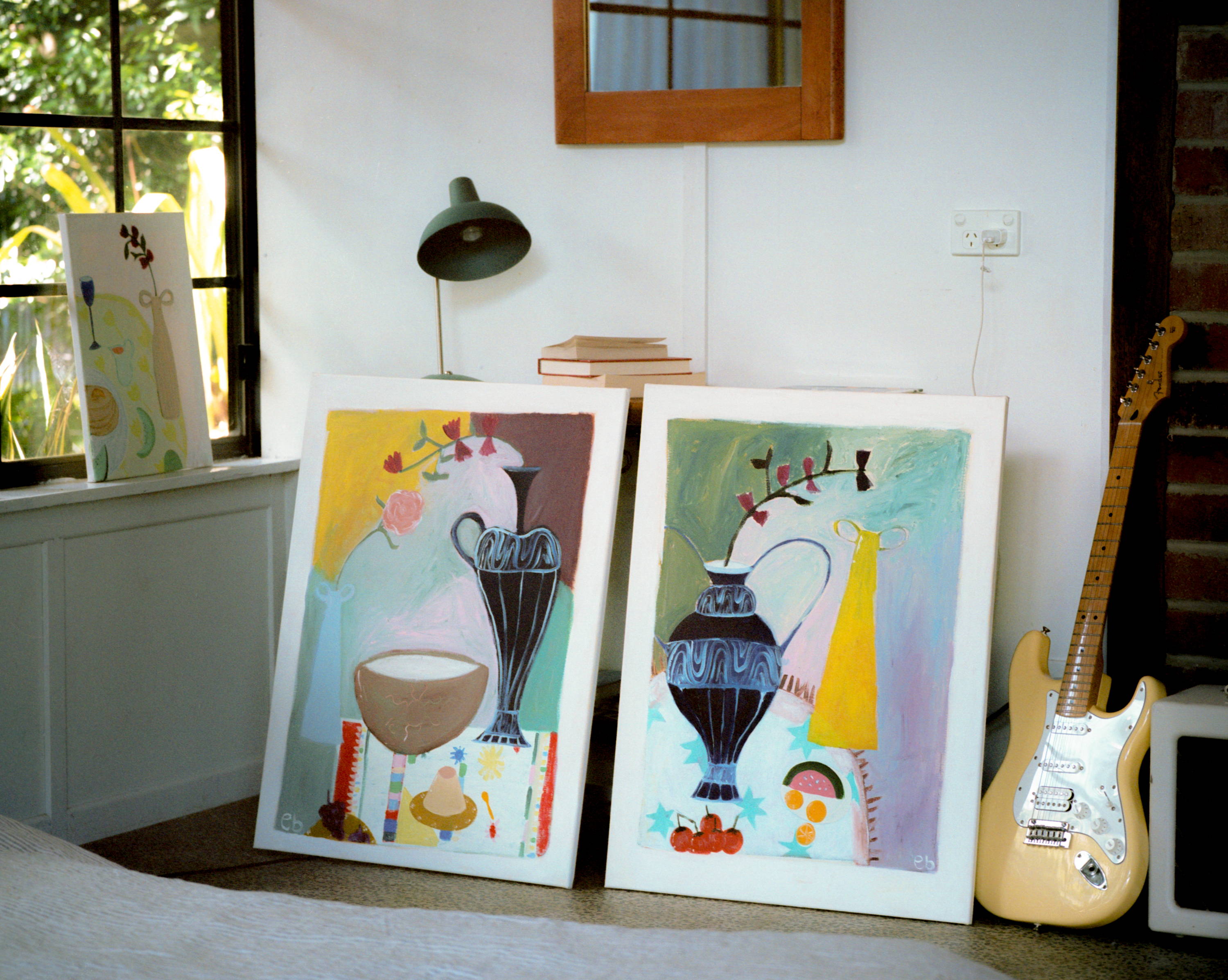 ---
Q. Where are you from?
A.
Brisbane
Q. Favourite Sunshine Coast beach?
A.
Little Cove or Tea Tree.
Q. Highlight of your creative career?
A.
I have to say seeing my art displayed in your beautiful store! Also, having a two-page spread in Russh magazine and designing a print for my favourite Australian brand Deiji Studios.
Q. Your go to local coffee spot?
A.
Belmondos.
Q. When you aren't painting how do you spend your time?
A.
When I am not painting, I am usually writing music.
If I am having a rest from creating, I will try to spend time reading and studying in some way, at the beach or watching French films.
I tend to feel a sense of guilt if I am not working, but I am trying to let this go and instead allow myself to have days where I do what I enjoy just for the pleasure of it.
Surfing is my favourite way to spend a morning so I think I will get back into it soon!!
---
---
"WHEN I WAS 17, I WENT THROUGH A STRANGE PHASE OF BEING A BIT WITHDRAWN AND INTROVERTED, BUT THE BLESSING WAS I REALLY FOCUSED ON MUSIC, ACTING AND PAINTING."
ELLE-LOUISE BURGUEZ
---
---
---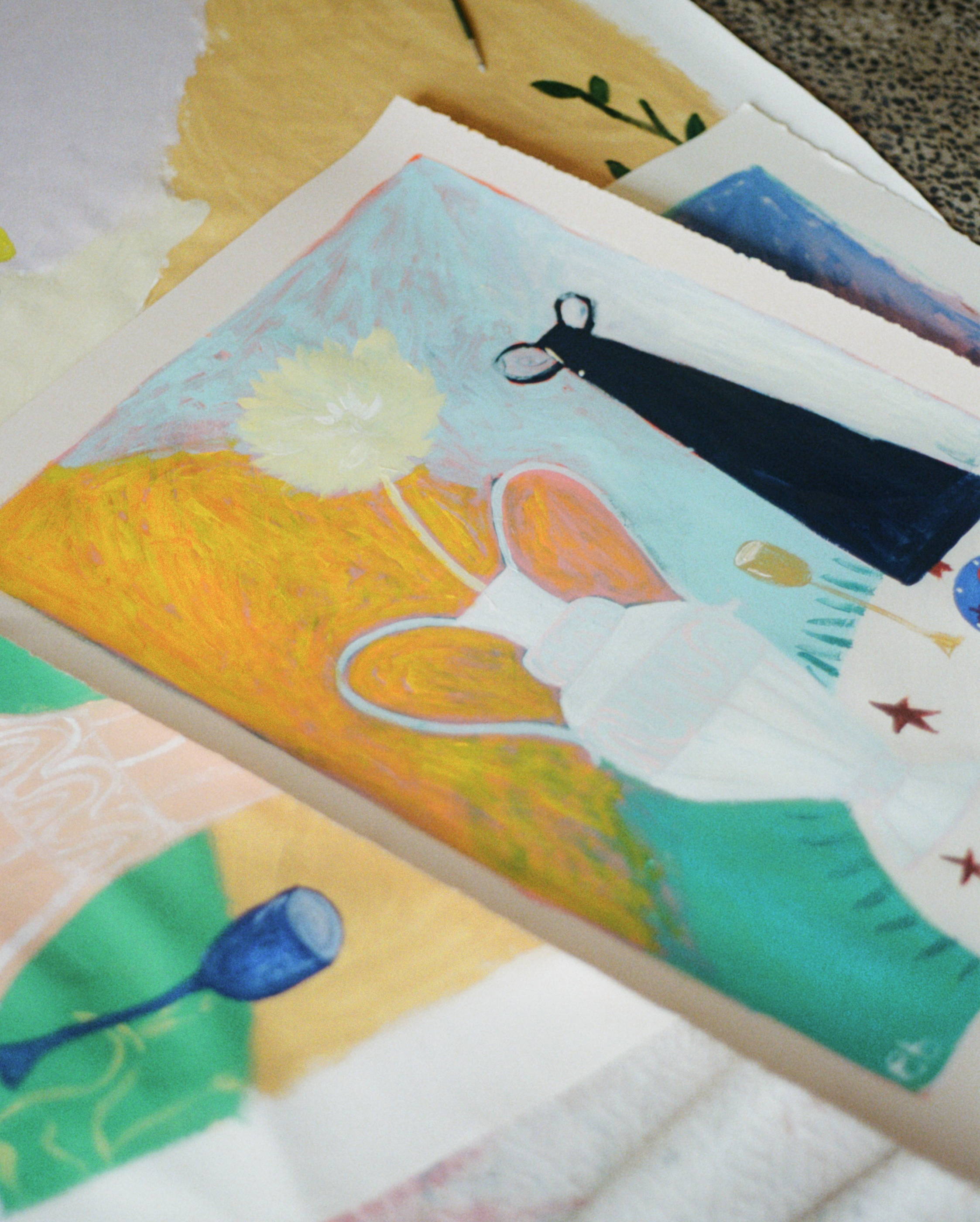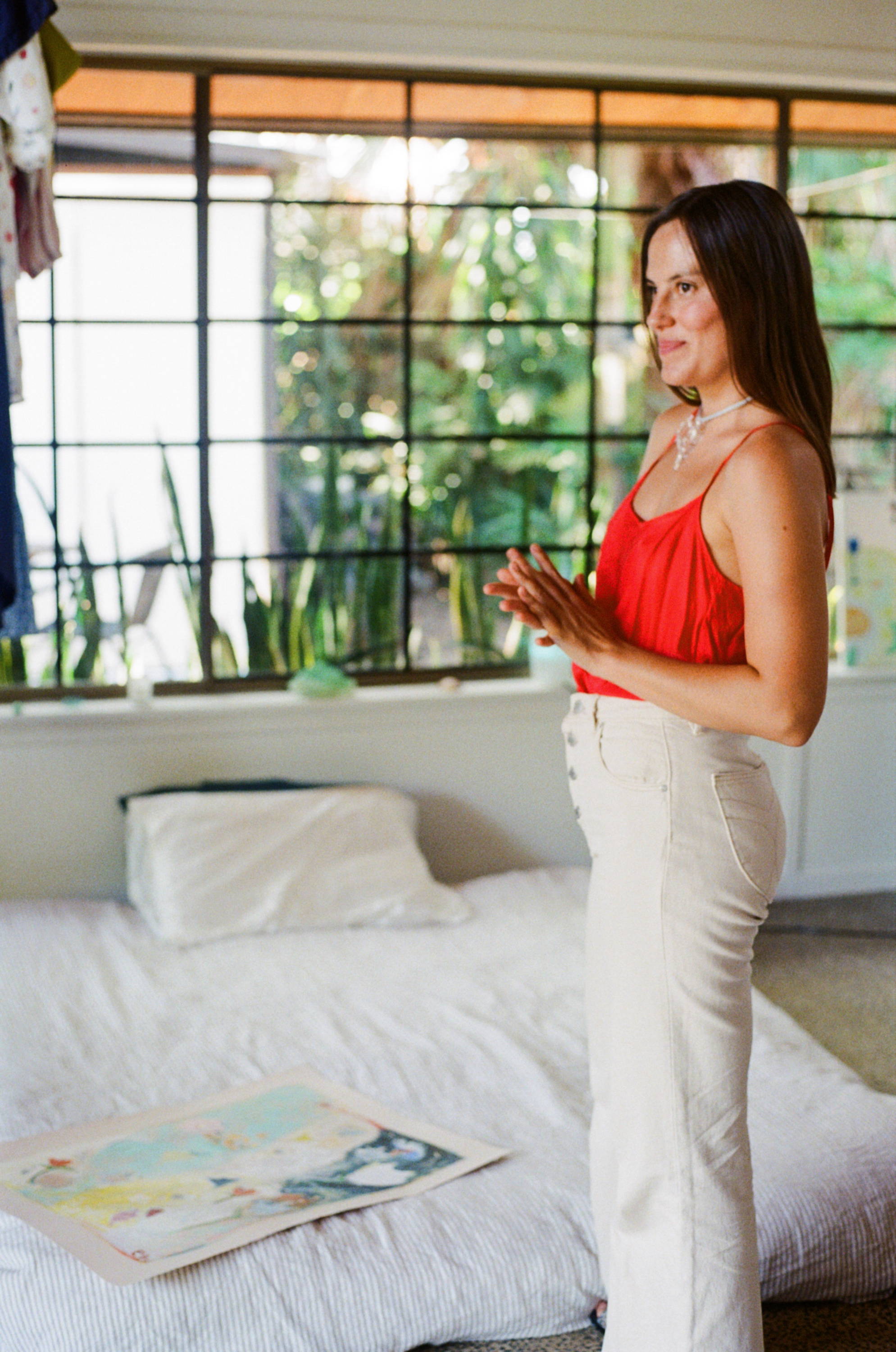 ---
---
Q. What is the creative process behind your work?
A.
My process varies depending on my state of mind. Lately I have been setting up my studio space, lighting some palo santo or incense and listening to podcasts all day whilst I paint.
When I am in the flow these are the loveliest days for me, I work for hours without pause. I am not really a planner but at the moment I have been choosing some kind of theme which helps me to dream up more imaginative ideas for the design of my rugs or vessels in the painting.
For me it is always a process of having to leave it up to the unknown and go with the flow, letting the different pigments of colour guide me to the next idea.
Q. How has your work evolved over time?
A.
Colour has always been the most important part of painting to me.
I started off using texta and then moved on to watercolour, copic markers, oil paint and then finally acrylic paint and oil sticks. For a while I was quite minimal with my paintings and would just paint the background in one colour and place a few vessels and fruits on the canvas.
There was a lot of space. Lately, I have been creating more layers and filling up the space with larger designs and colours. There has always been a sense of romance, naivety and playfulness in my work.
Nowadays I am also drawing inspiration from ancient art. In particular Indian and Persian Miniatures as well as Greek and Egyptian art.
Q. What inspired you to start painting? How many years have you been painting for?
A.
In year 12 I came back to my authentic self and started to find my creativity again. I was a very creative and imaginative child, but I lost that in my early teenage years.
When I was 17, I went through a strange phase of being a bit withdrawn and introverted, but the blessing was I really focused on music, acting and painting.
My paintings were horrible, so I started to use texta pens and watercolours for around a year after school and was making very colourful abstract art.
I then merged this into drawing interiors and objects in my signature kind of style and after a couple of years I moved onto painting. So, I have been painting for around 8 years.
Q. What is your style of painting? How would you best describe your style?
A.
Naive and vibrant dreamscapes full of flowers, vessels, fruits and a sense of being on holiday.
Q. Who are your favourite artists?
A.
Pierre Boncompain, Picasso, Matisse, Pegge Hopper, Paul Gaugain, Cy Twombly, Monet, Jean Cocteau and many more.
---